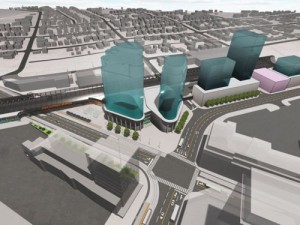 The Region of Waterloo, which includes the twin cities of Kitchener and Waterloo in Southwestern Ontario, plans to build a $43 million dollar transit center to connect with the city's new ION LRT line, currently under construction.
Council recently voted to proceed with a design-bid-build process, and to contact the provincial agency Infrastructure Ontario to assist with procurement. The cost includes the cost of transit infrastructure, procurement and parking. The Region is seeking funding from the provincial and/or federal governments before the project receives the green light.
The center will be located on the southeast quadrant of King Street (Kitchener-Waterloo's main north-south street) and the former CN Toronto-London Guelph Subdivision. This line is currently used by VIA trains and two weekday GO Transit rush hour runs, which will soon be increased to four. Apart from the LRT, GO and VIA trains, Grand River transit buses, the local operator of city routes, will use the center.
The four-acre site is expected to include a mix of office, retail and residential uses. One developer or consortium of developers will be hired by the Region to build the center. The plan is that the Region will pay for the transit infrastructure. Metrolinx, the provincial transportation agency, will also be involved. The center is expected to include 100 parking spaces, a public square and transit plaza, a bus loop and bays, and passenger pickup and dropoff areas.
Metrolinx will be responsible for offsite infrastructure in the rail corridor, including a GO/VIA Rail platform and canopy, and pedestrian access. At present, VIA and GO facilities are located at the former CN station three blocks to the east.
The center is likely to be completed some time after the LRT's scheduled Fall 2017 opening, depending on how soon construction arrangements are finalized.
Source: RailwayAge