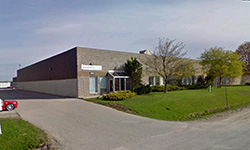 GUELPH, ONTARIO, CANADA: NAI Park Capital is pleased to announce the completion of a newly negotiated lease with Kooiman Industries Limited for 20,390 square feet of industrial and office space located at 589 Massey Rd., Guelph, Ontario, bringing the property to 100% occupancy. Kooiman Industries Limited is consolidating two separate locations into one building, and relocating to Guelph from an outside municipality.
Michael Merker, CCIM represented the Landlord in the transaction.
The property is managed by Orbis Property Management on behalf of an overseas investor.
About Kooiman Industries Limited:
Kooiman Industries Limited, is a privately-owned company, which has been manufacturing retail store fixtures for many of North America's major retailers since 1984.
About NAI Park Capital:
NAI Park Capital is a leading, full-service commercial real estate brokerage, serving southwestern Ontario, Canada since 1995. As a member of NAI Global, NAI Park Capital is affiliated with more than 375 offices strategically located throughout North America, Latin America, Europe and Asia Pacific, with over 6,700 local market professionals, managing over 380 million square feet of property. NAI Global Member firms, leaders in their local markets, are actively managed to work in unison and provide clients with exceptional solutions to their commercial real estate needs. For more information about NAI Park Capital, please visit www.naiparkcapital.com. Be sure to follow us on Twitter @naiparkcapital and LinkedIn.
###
Contact: Michael Merker, CCIM, Broker of Record, 519.824.9900 or [email protected]